The Optimal Gamecube Controller Travel Case!

"The Light Shield is amazing. I've been waiting for the perfect controller case for years and this is finally it."

- Wizzrobe, #7 on SSBMRank 2018

Play to your potential by minimizing controller malfunctions!
Imagine it's last stock, game 5
Your heart is pounding in your chest
Your hands are cold and clammy, and your nerves are electric
And for one millisecond, you imagine how amazing it would feel to win this game.
But then you miss your shield drop and get punished
Or choose the wrong angle
Or mess up your ledgedash
And all of a sudden it's over, and you feel that blunt pain in your head from losing
So you pack up your things and leave the setup with your shoulders sagged
Whatever it was, in the heat of the moment you knew exactly what you had to do in your head, but for some reason your controller just didn't do what you wanted it to
The reason?
It could have been the nerves, but you've been practicing these moves for years, and by now it should be muscle memory
So if it isn't you, my guess is this:
You've been carrying your controller in your backpack too much, and all of that damage has slowly but surely loosened your joysticks
It's the same reason we cringe when we see a controller lying face down,
It's because we know the joysticks are being held in a non-neutral position
If you wouldn't let that happen, then why would you let the inside of your backpack do the same thing to your controller every time you travel?
You might be thinking, "I've been doing this for years and my controller is fine!"
Well that may be the case
But when you think about it, you might remember some times when your controller actually cost you some wins (no johns)
If you're a professional smasher, or want to be one, you need your controller to be as precise as possible at the right the right times, so you can play perfect and style on your enemies
You need your gear to be in great condition when it really matters
So what do you do? You look for a case!
Well right now, every other case on the market is either too bulky to fit in your bag, or too squishy to actually protect your buttons and joysticks from harm
The Light Shield is the only case with a sturdy plastic shell, that guarantees that your buttons and joysticks will never get crushed in a bag or suitcase
So you can travel worry free, and focus on playing at your full potential
It's also extremely compact and only takes up a little more space than a regular controller
So it'll definitely fit in any bag you choose to carry it in, and you can leave your controller in your bag for days at a time without worrying about damage
And with the built in cord slots, this case is extremely quick and easy to use
Just slap it on, and wrap up your cord like you normally would. It's that easy.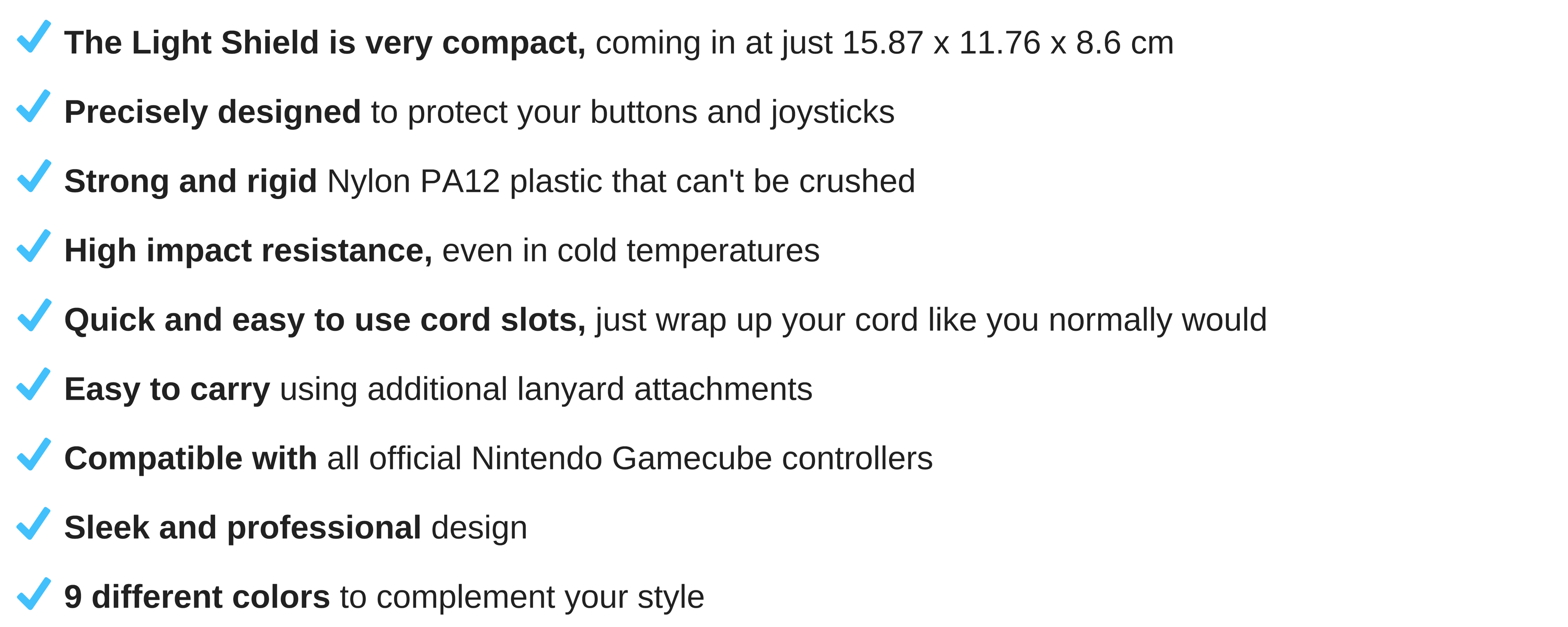 (1) Put the Light Shield over your controller
(2) Wrap up your controller like you normally would
(3) Put your controller in your bag or carry it by hand
It's that simple!
(1) Just put your Light Shield over your controller
(2) Wrap up your controller like you normally would
(3) Secure your cord with bendy ties or a Light Band
(4) And then put your controller in your bag or carry it by hand
It's that simple!
WHAT'S THE DIFFERENCE BETWEEN THE SUPER LIGHT SHIELD AND THE LIGHT SHIELD PRO?
Overall, they're both extremely strong, durable, and have the same shape.
The difference mostly comes down to the manufacturing process, and the size of the production batch, as everything is cheaper when produced in bulk
The Light Shield PRO is custom made, one-by-one, using industrial SLS 3D printing technology
The Selective laser sintering (SLS) process involves:
* Laying down a thin layer of nylon plastic dust
* Melting and hardening a single layer of your design using a laser
* Laying down another layer of plastic dust on top of that
* And repeating the process until you have a completed product with fine details and solid construction
The PRO has a better texture/feel, comes in a wider variety of colors, and a higher impact resistance
But it's much more expensive to produce because of the batch size and the type of machinery involved
The Super Light Shield is made using a process called vacuum forming
This process involves:
* Heating up a rectangle of ABS plastic
* Placing it over a mold
* And using a powerful vacuum to form the plastic over the mold
* The excess plastic is then trimmed away, and you have one solid finished product
This method is much more affordable because it allows you to produce in medium sized batches, and uses much simpler technology
1 YEAR NO QUESTIONS ASKED MONEY BACK GUARANTEE
If you would like to return the product for any reason at all, please contact me at max@lightshield.gg.
Just pay shipping and handling to return the product, show me a receipt for the cost of shipping, and I will reimburse you for both the return shipping cost and your Super Light Shield purchase price.
1 YEAR WARRANTY ON CRACKS AND BREAKS
If your Super Light Shield ever cracks or breaks within the first year of use, just email me at max@lightshield.gg, pay shipping and handling to return the product, and I will send you a brand new Super Light Shield for FREE!
(Redeemable once per individual Super Light Shield unit purchased, within 1 year of purchase date)
SHIPPING AND MANUFACTURING TIMES
FREE SHIPPING TO THE UNITED STATES
Shipping to US customers is FREE and will take roughly 2-5 business days once we start to ship orders.
Just to clarify, the first batch of Super Light Shields will be shipping in March.
Worldwide shipping is also available for $17.67 for most countries (Less for Canada and Mexico), and will take about 6-10 business days.
Customers outside of the US are responsible for import duties and taxes when applicable.
MANUFACTURING AND DELIVERY TIMES
Right now we are working on our first batch of Super Light Shields, and deliveries should begin in March.
Due to our new thermoforming manufacturing method, there will be a lot more manual labor involved in our production process.
For this reason we will be producing Super Light Shields in batches, and it may be some time before we plan our next batch, so get yours while you can!
Wizzrobe, #7 on SSBMRank 2018
"The Light Shield is amazing. I've been waiting for the perfect controller case for years and this is finally it."
Andrew "zenith" har
"When it comes to controller cases, speed and ease of use are what I value most and I have never had a case as quick to use as the Light Shield."
alvin "l" nguyen
"The Light Shield's build quality is great, my controller hasn't been shield poked once since I got mine. The build quality is great, the case is nice to look at, and it's efficient on space. Love it!"
Wyatt Cottrell
"The robust and thoughtful design for the protection of the joysticks and buttons is invaluable, no other case I've seen can guarantee this like the Light Shield."
drunksloth
"The light shield has been with me to every event ever since I got it. This is my favorite controller case by far because of it's sleek and compact design. It doesn't take up too much space and makes traveling with your controller much easier."
Product Quality is Guaranteed
Get yours now!